If you're in DC this weekend – April 13 – you need to be at "Countdown to Yuri's Night: Year of the Robot." My work will be featured both as part of "Voltron's Corpse," and I'll also have several items available for "cash and carry," which will be going on during the show.
The sixth annual Countdown to Yuri's Night (C2YN) — featuring an exhibition of interchangeable robot paintings; burlesque show with Trixie Little and The Evil Hate Monkey, Mr. Gorgeous, Candy Del Rio, The Reverend Valentine, Fannie Spankings, and Kittie Glitter; Swami YoMahmi as your favorite Doctor; music from the bands Dance for the Dying and Atomic Mosquitos; and much more — will celebrate the anniversary of the Cosmonaut Yuri Gagarin's space flight with robot flare.

http://outofthisworldparty.com

8:00 PM – 2PM
Artisphere
1101 Wilson Boulevard
Arlington, Virginia 22209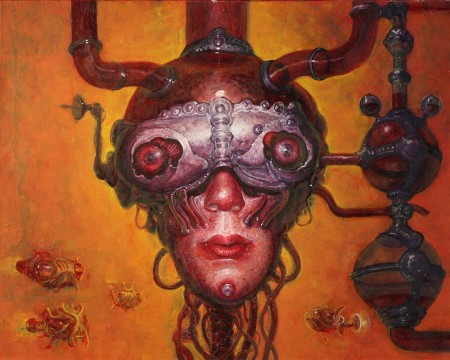 "iCU2"
Limited edition prints of "OZ Evolutions" and "Rocketgirl" will be available for $50 each, and the original oil on canvas painting of "Interplanet Janet" will be on sale for $500 one night only. You can email me if you have any questions or are interested in the work. scott@scottgbrooks.com

"OZ Evolutions"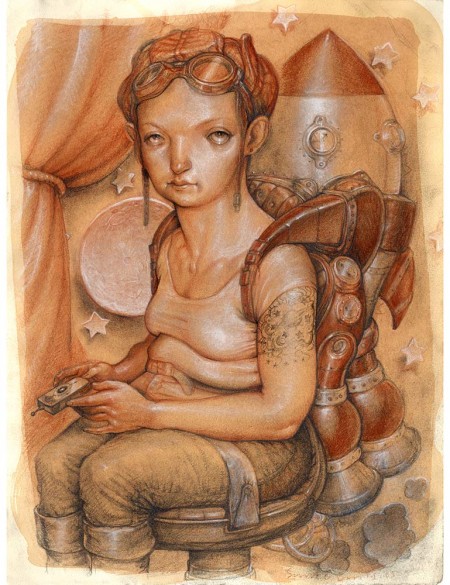 "Rocketgirl"

"Interplanet Janet"

"iCU2" (Complete)

Events:
"SEARCH FOR DRINKBOT" BURLESQUE SHOW:
Performers include Trixie Little and the Evil Hate Monkey, Mr. Gorgeous, Kittie Glitter, Swami Yomahmi, The Reverend Valentine and Candy Del Rio
TWO OUT-OF-THIS-WORLD BANDS:
Atomic Mosquitoes & Dance for the Dying
"VOLTRON'S CORPSE" ART EXHIBITION:
with 15 artists, creating interchangeable robot art!
LUNAR DANCE PARTY
with Chief Boogie Officer, P.Vo to incite your moonwalk
PLUS
Moonbounce | Cash n Carry Space Art | Celestial Costume Contest | Courtesy Space Junk | AND MORE…
Note: The event structure is different than in previous years–no timed tickets required. The event blasts off at 8 pm and goes until 2 am.
Get check out the performer line-up and get a updates at www.c2yn.com.
__________________________________________________________
FLIGHT PLAN (updated)
8:00 PM Moonbounce, Art Exhibition, Bar, and Photo Ops open
8 PM – 9:30 PM Atomic Mosquitos sets interspersed with sexy space cadet "training" seminar
9:00 PM Dance for the Dying music set
9:30 PM Burlesque Show: "The Search for Drinkbot," Part 1
10:15 PM Dance for the Dying set
10:45 PM Celestial Costume Contest
11:15 pm Burlesque Show: "The Search for Drinkbot," Part 2
12:00 AM – 2 AM Lunar Dance Party
PLUSRock 'Em Sock 'Em Robot Tournaments, Trivia, Sci Fi Movie Mash-ups, and more!